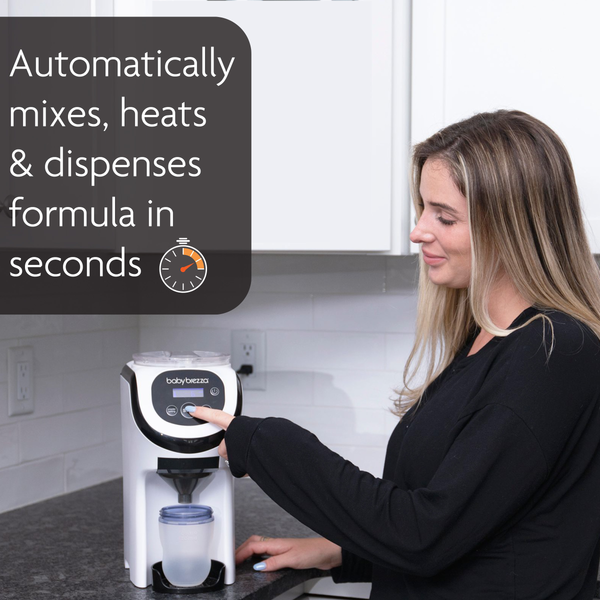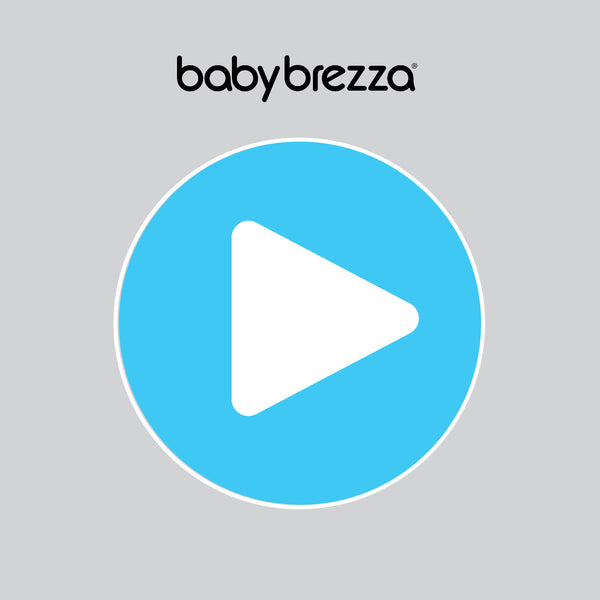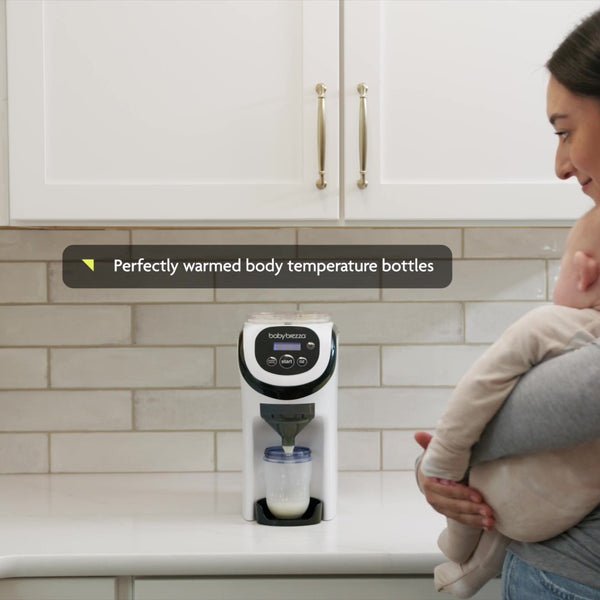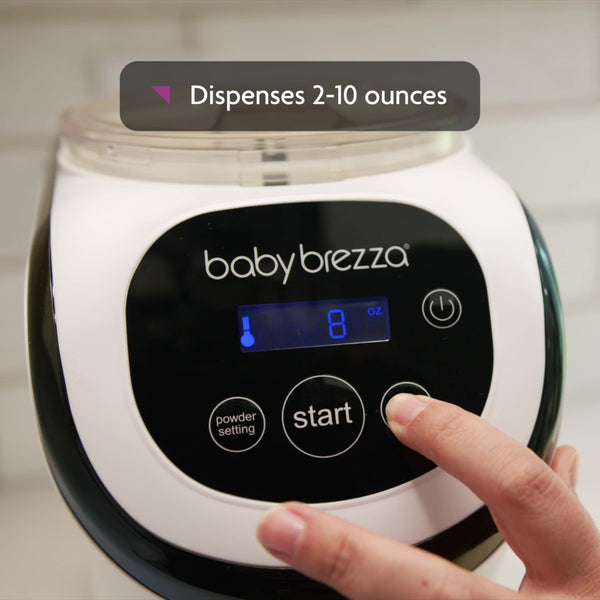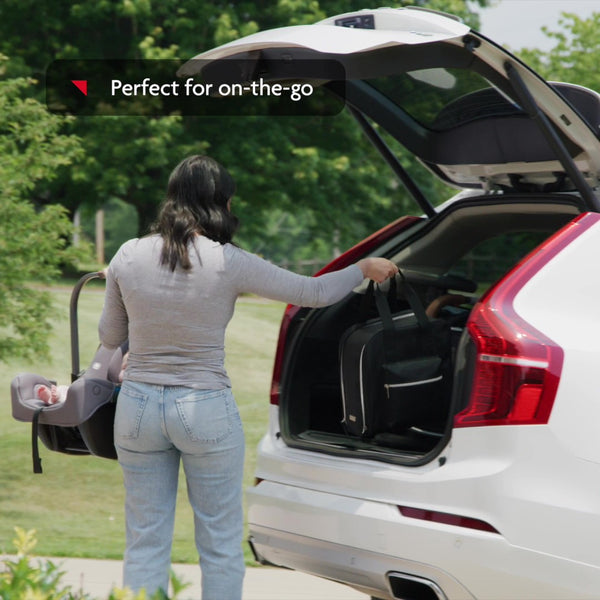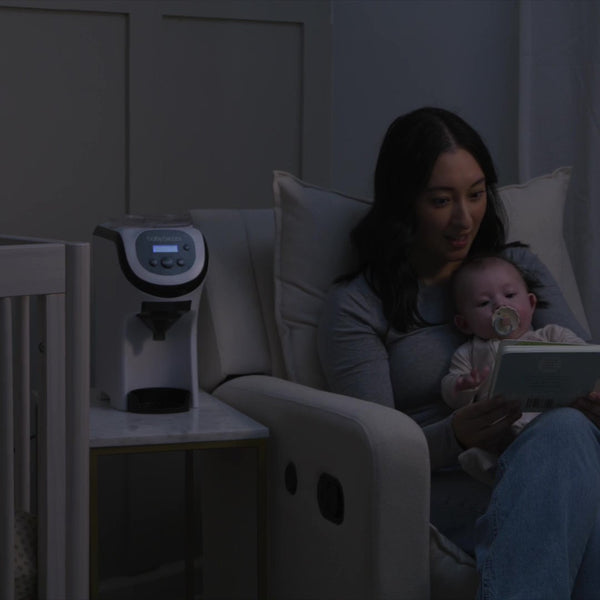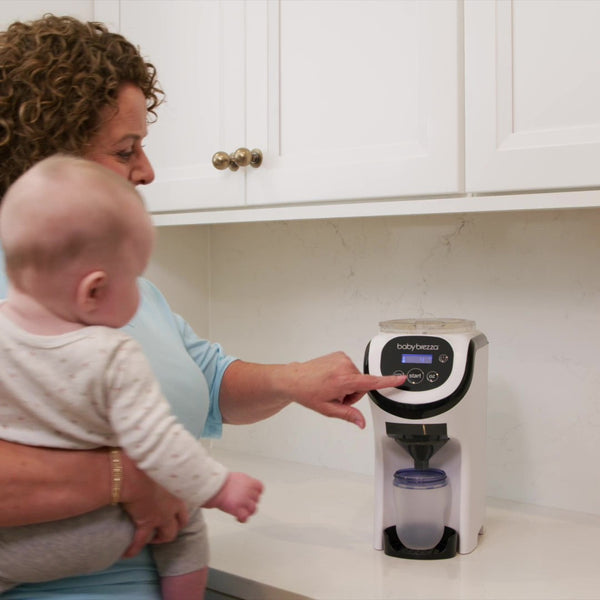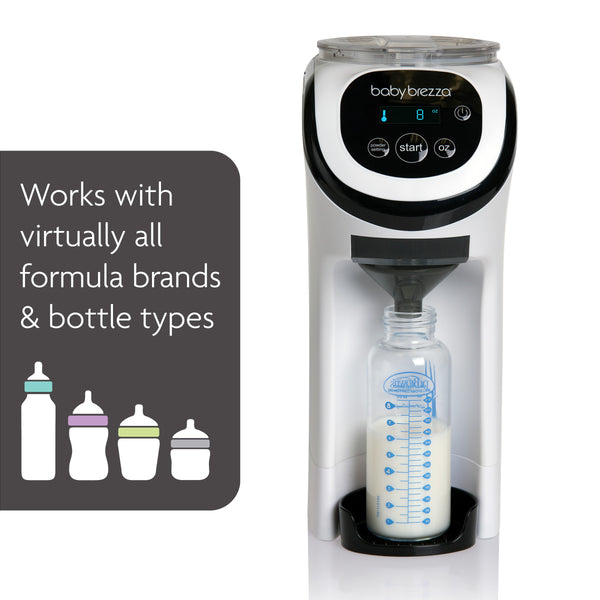 tap image to zoom
$179.99
15% OFF + FREE Shipping Now!
The first compact baby formula maker automatically makes a warm formula bottle instantly
Same patented mixing technology as the #1 selling Formula Pro Advanced
30% smaller than Formula Pro Advanced - the perfect travel formula dispenser or just for smaller spaces
Dispenses 2-10 ounces of body temperature formula to the perfect consistency every time
Works with virtually all formula brands and all brands/types of bottles (tall bottles typically over 9oz require a stand sold separately. Buy here)
Faster, more accurate, and more hygienic than making bottles by hand
Easy to set-up and use with all digital controls
Dishwasher-safe, removable water tank
Travel Bag exclusively designed for the Formula Pro Mini, sold separately. Buy here
1st compact formula maker-perfect for travel or smaller spaces

30% smaller than the Formula Pro Advanced

Automatically makes a warm formula bottle

Dispenses body temperature formula from 2-10 ounces
Compare with similar items
THIS ITEM: FORMULA PRO MINI
Compact model for smaller spaces & travel
30% smaller than Formula Pro Advanced
One temperature & 2-10oz dispensing
Compact design ideal for travel or near bed
Works with virtually all formulas
FORMULA PRO ADVANCED WIFI
3 temperature settings
Regular size
50 oz water tank
Powder container holds 600g
Use with FREE Baby Brezza App
FORMULA PRO ADVANCED
3 temperature settings
Regular size
50 oz water tank
Powder container holds 600g
Awards
FAQs
What are Other Benefits of a Travel Formula Maker?
Aside from having the useful benefit of being able to travel easily with your family anywhere, a portable formula maker may also work better in certain households due to its compact size. Homes with smaller kitchens, limited counter space, and/or a lot of appliances may be better suited for a portable formula mixer and dispenser. With this model, parents are able to experience all the benefits of a full-size dispenser while still managing to save valuable room in their home. Take a look at the space available in your kitchen and decide which size is right for you, and start experiencing the ease of the Formula Pro Mini!
How is a Travel Formula Dispenser More Hygienic than Making Bottles by Hand?
What it really comes down to is germ exposure. Formula powder is stored in an airtight container so you never have to reach into the formula container, unlike when making bottles by hand which can easily transfer germs from the hands to the powder. When making bottles by hand, you have to stop and pick up each component and ingredient separately, potentially dropping pieces or exposing your hands to unclean areas in the process. With a regularly cleaned and maintained portable formula mixer, you can rest assured knowing that your little one is getting a clean, healthy bottle of formula every time.
Do Babies Prefer Formula at Body Temp, Warmer, or Colder?
This largely depends on what parents discover their babies' personal preferences to be; however, statistically speaking, more babies prefer formula warmed similarly to body temperature over warmer or colder mixtures. Naturally, this is due to its similarity to breastmilk– and luckily, this on-the-go formula dispenser by Baby Brezza is designed to make your baby's formula at a perfect body temp (98.6) every time. If you discover that your baby prefers warmer or colder formula, we recommend checking out our models with other warming settings or placing your bottle in the fridge momentarily after dispensing.
How Often Should I Make Fresh Formula Bottles for Baby?
As should be expected, your bundle of joy's feeding amounts and schedule will both change as your baby heads toward the 6-month mark and eventually on to baby food. A newborn baby will need 2-3oz of formula every 3-4 hours; a 1-month-old needs 4oz every 4 hours; at 2 to 3 months old, your baby will need 4 ounces six to seven times per 24 hours; between 4 and 6 months, they will need 5-8oz five times per 24 hours; lastly, once your baby hits their first year, you should be feeding them 8oz two or three times across 24 hours, while also feeding them the baby food of your choice.
Baby Brezza's new travel formula dispenser makes feeding time easier while on the go. The Formula Pro mini is more than your average travel formula mixer, and does it all in a compact design made to go with you and baby anywhere. With a bulky, complicated formula dispenser, travel can feel a lot more stressful; that's how Baby Brezza's scaled-down travel formula mixer, warmer, and dispenser aims to save the day– by offering the ability to get feeding time done in a way that harmonizes with your journey, parents and baby alike are able to spend more time enjoying a trip, no matter where you go. The Formula Pro Mini is your small-yet-mighty solution to finding the perfect travel formula dispenser, ready to produce 2-10oz anywhere, any time you travel; formula has never been easier, at home or on the road.