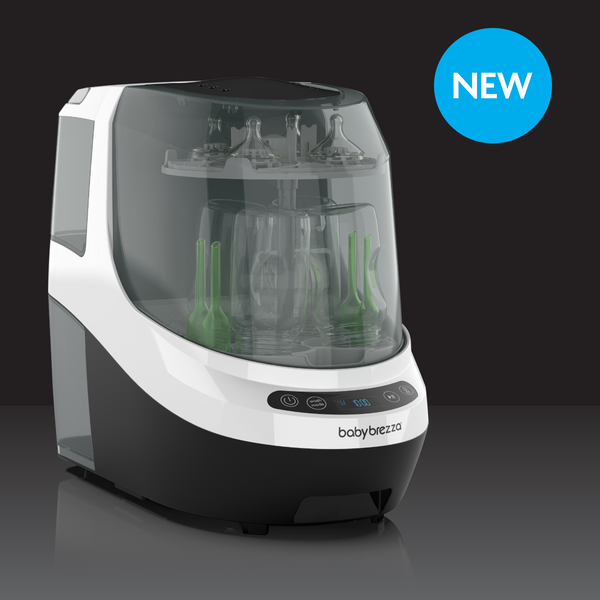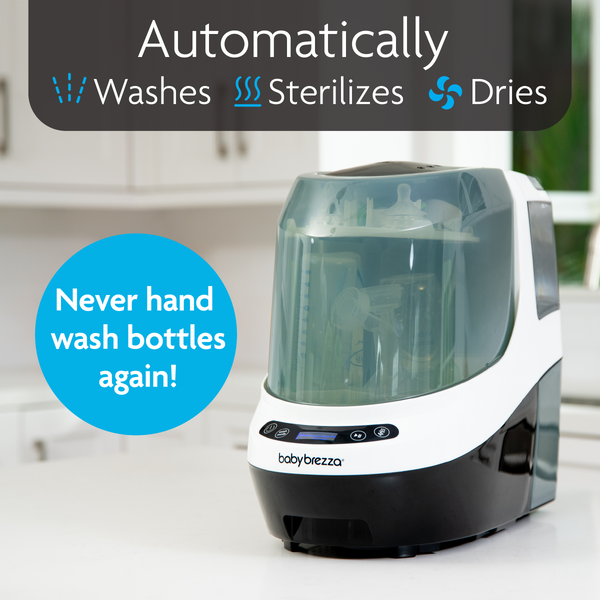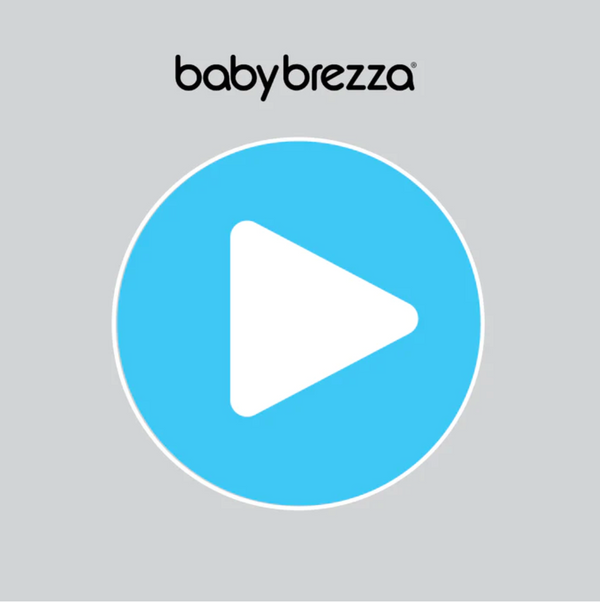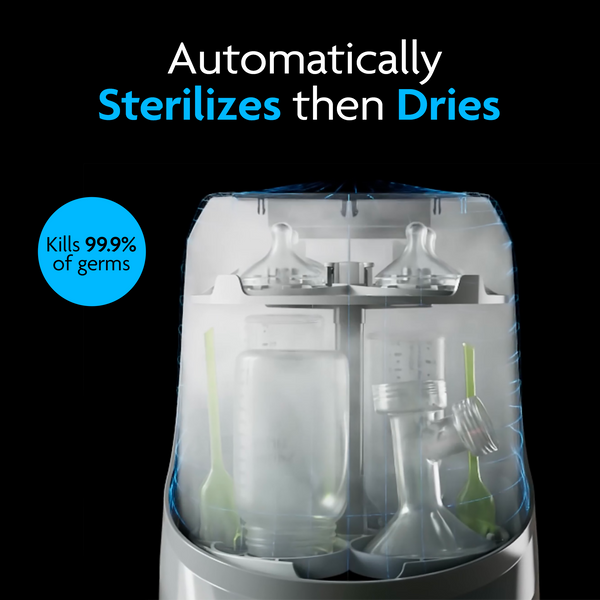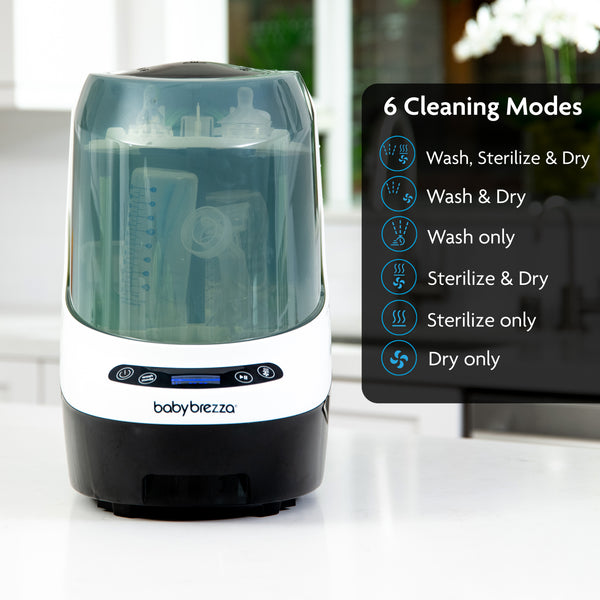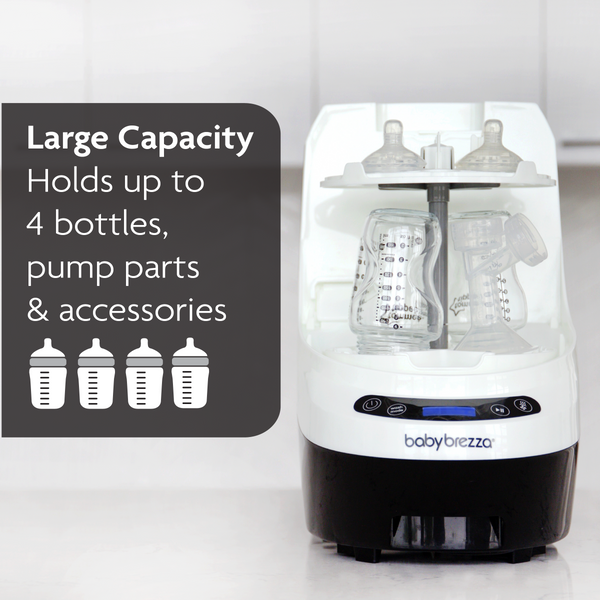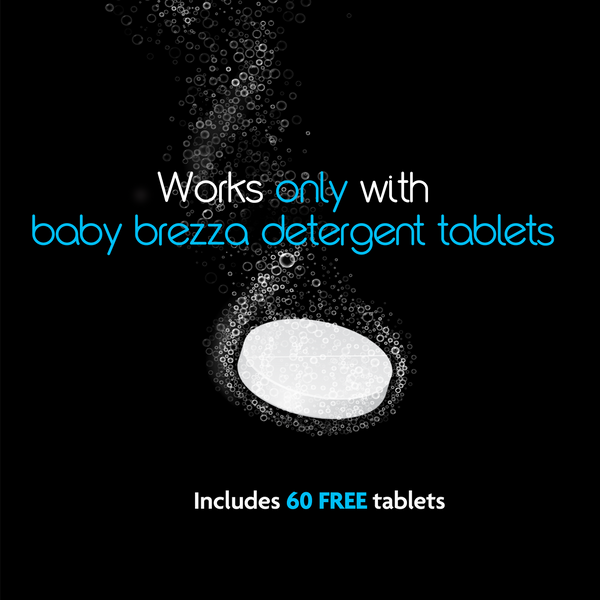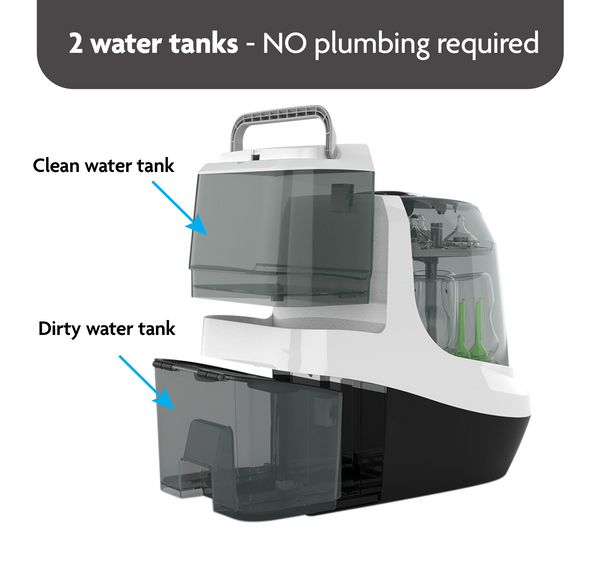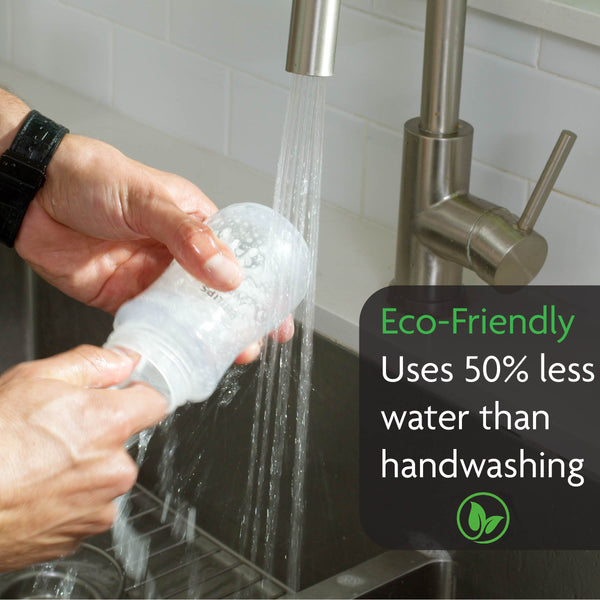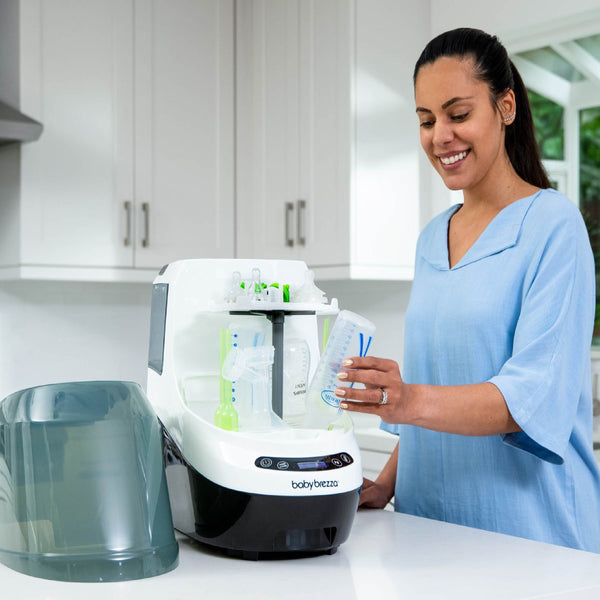 tap image to zoom
$299.99
Ships in November
Free Shipping and Returns
Automatically washes, sterilizes & dries bottles, pump parts and sippy cups. Never use a bottle brush again!
Powerfully washes with 20 high-pressure spray jets
Kills 99.9% of germs with steam, then dries with HEPA-filtered hot air
Large capacity: Holds up to 4 bottles, pump parts & accessories. Fit virtually all bottles and most pump parts and sippy cups (excludes Nanobebe Breastmilk Bottles and wearable pump parts and straw cups)
6 Cleaning modes: Wash-Sterilize-Dry; Wash-Dry; Wash Only; Sterilize-Dry; Sterilize Only; Dry Only
No plumbing required with removable clean & dirty water tanks
Eco-Friendly: Uses 50% less water than hand washing
BPA-FREE; 1-year warranty + FREE 6-month extended warranty when you buy direct from BabyBrezza.com
Dimensions: 18L" x 16H" x 8W"

Helpful Tips:

Eliminating Residual Water: Residual water may occasionally remain in curved areas of bottles and accessories. Simply tilt the products inside the machine to allow the water to run off and prevent water spots

Dealing with Hard Water: If your home has hard water/well water, mineral residue may be left on products after drying due to the high mineral content. To prevent this, we recommend using a water softener or distilled water with the machine
Questions? Visit the Bottle Washer Pro Information Center for answers
Automatically washes, sterilizes & dries bottles & pump parts. Never hand wash bottles again!

20 high-pressure spray jets powerfully wash stubborn milk residue & odor

Sterilizes & kills 99.9% of germs with natural steam

Automatically dries with HEPA-filtered hot air

6-in-1 Functionality to meet all your needs
Awards
FAQs
Can You Wash Baby Bottles with Dish Soap?
While it is possible to find and use dish soaps that are safe for baby to use, it is not recommended due to the common presence of ingredients that can harm babies. If you haven't found the ideal baby bottle washer for your home yet and need a quick option using dish soap, make sure to avoid these ingredients: the detergent sodium lauryl sulfate, known for its association with carcinogens; sodium laureth sulfate, which can be carcinogenic and cause liver damage; and artificial fragrances, which are known to cause allergic reactions. If nothing else, ensure you've boiled all of your baby bottle parts and have a bottle brush nearby– but we encourage parents to consider investing in an automatic bottle washer.
Can You Wash Baby Bottles in the Dishwasher?
Again, this can be a case-by-case issue depending on the types of equipment that you have. If you do not have a bottle washing machine yet and want to use your dishwasher as your at-home bottle washer, there are two steps parents should always consider and follow accordingly: first and foremost, make sure that each bottle and its associated parts are, in fact, dishwasher safe– manufacturer's labels will typically be found printed on the bottles themselves or on the packaging; secondly, make sure to use fully-heated washing and drying cycles that will kill germs and eliminate any moisture afterward. Extra moisture can promote bacterial growth and germs that are potentially harmful to baby.
Do You Have to Wash and Sterilize Baby Bottles Every Time?
Absolutely, and we encourage parents to look into equipment like a baby bottle washer machine to help make that process even easier and less risky. Each bottle component has to be washed and sterilized after every use to prevent buildup or cause extra moisture to linger in components. Buildup and moisture can lead to bacterial growth and germs that can harm the baby. This is why bottle washing & sterilizing for the first 12 months of a baby's development are both so important.
How Often Should You Sterilize Baby Bottles?
Many parents may mistakenly believe that they can wash bottles after every use but will only need to sterilize them occasionally– this is not the case. In order to promote the healthiest environment and feeding times for baby, parents must sterilize each component of their baby's bottles after each usage. Sterilization can be tricky to perfect and ensure each time, which is why we encourage parents to invest in a bottle washer that gets the job done correctly every time they press the Start button. You'll rest assured knowing that baby is using fully-sterilized bottles every time, and baby will only be healthier for it– not to mention, an automatic bottle washer and sterilizer helps you save time, giving you even more moments to make memories with baby instead!
Our Bottle Washer Pro is the cleanest and safest option for bottle washing. Capable of washing, sterilizing, and drying every bottle component, this bottle washer uses 20 high-pressure jets to reach every crevice and hard-to-reach area, helping to ensure completely safe bottles for baby's next feeding time.

This baby bottle washer also offers a HEPA filter for the drying process, guaranteeing the most safely-dried bottles possible. The HEPA filter helps prevent dust, pollen, and other airborne particles from attaching to bottles while drying so that germs and bacteria are less likely to develop and potentially affect your baby's health or allergies.

With 6 cleaning modes available, a chamber capable of storing up to 4 bottles, parts, & accessories, and separate, removable tanks for clean and dirty water, this bottle washer provides ease of use and the comfort of keeping your bottles as safe and clean as possible. It also uses 50% less water than hand-washing bottles and is even more thorough than hand-washing, too.

The baby bottle washer is easy to use and clean, so parents never have to waste time wondering if their baby's bottles are being left open to any potential bacteria. To further prevent any lingering moisture in the bottle washer, we recommend tilting the machine after each use to help drain any remaining droplets.