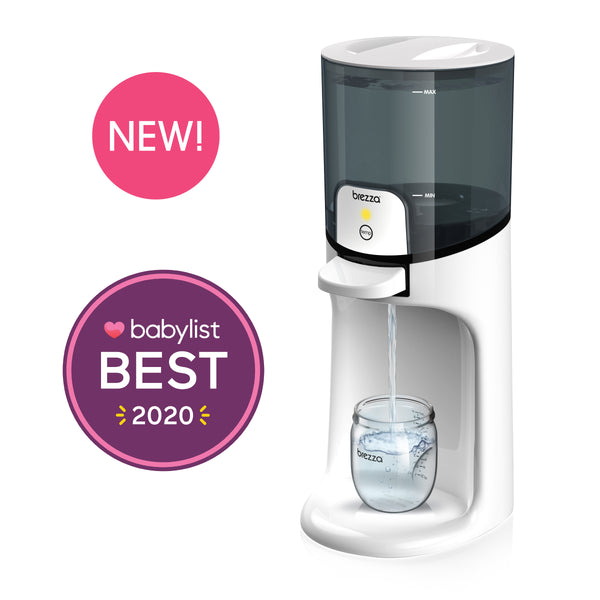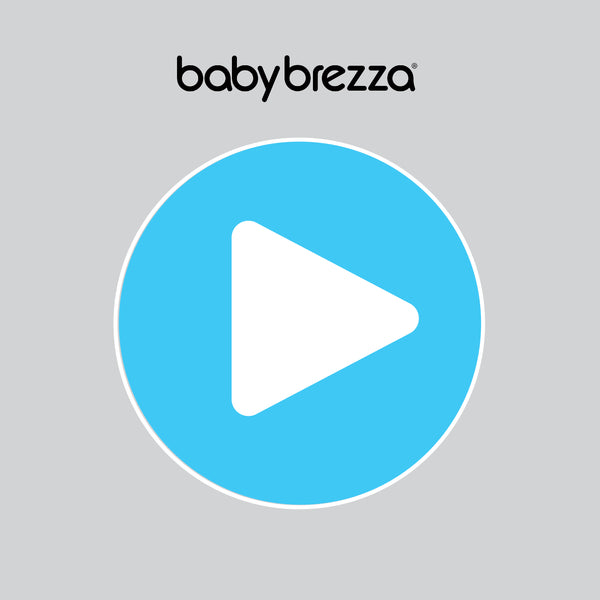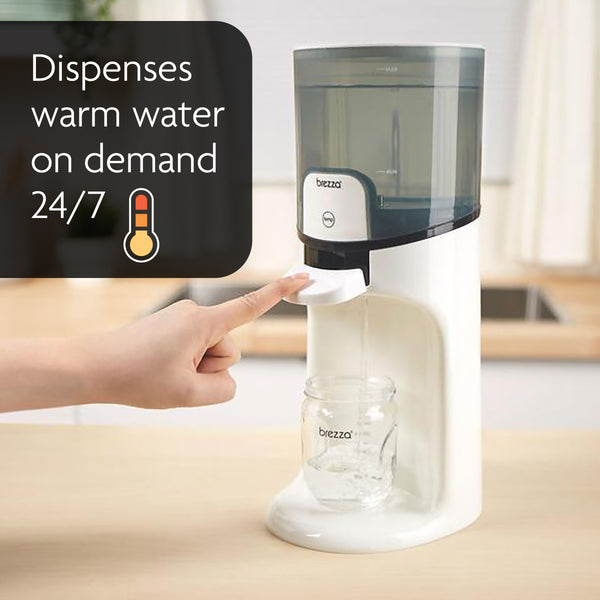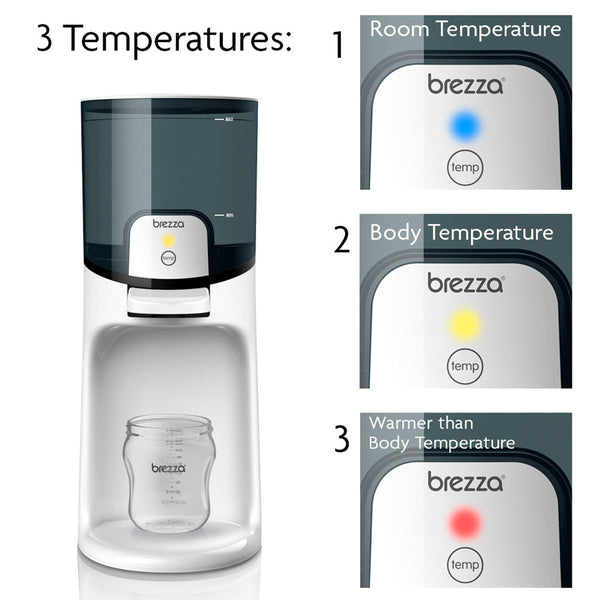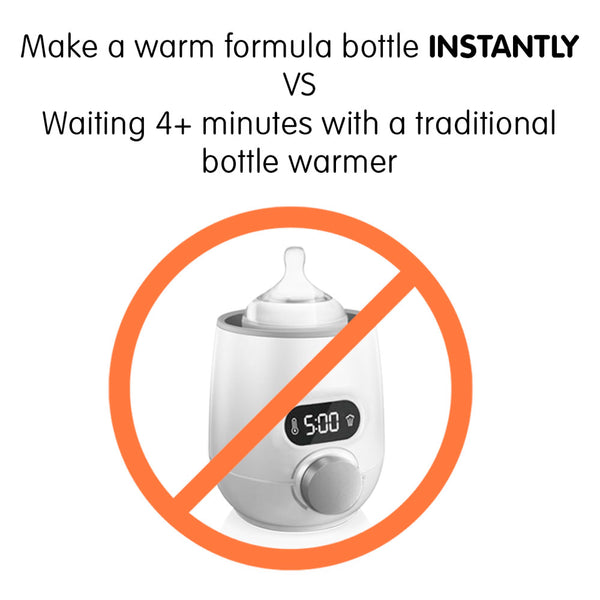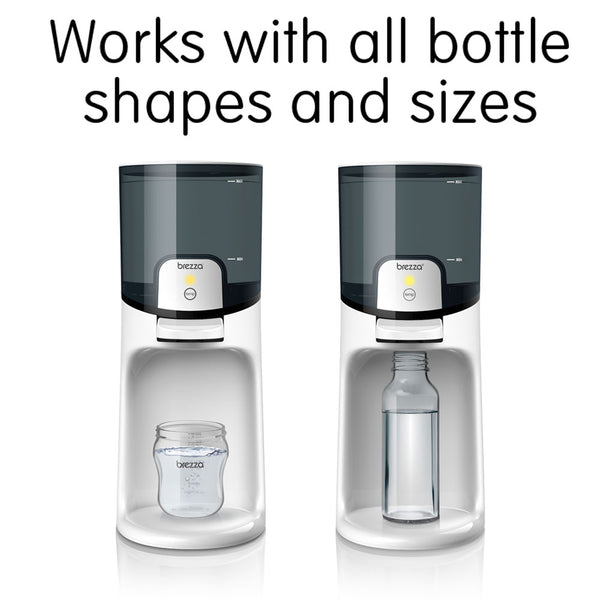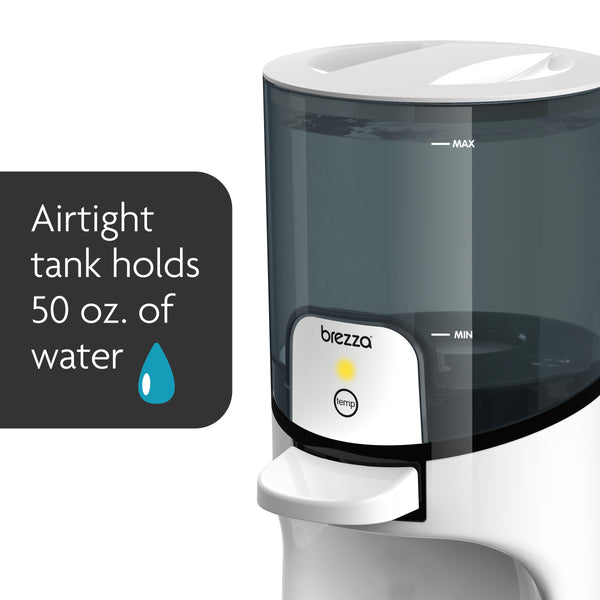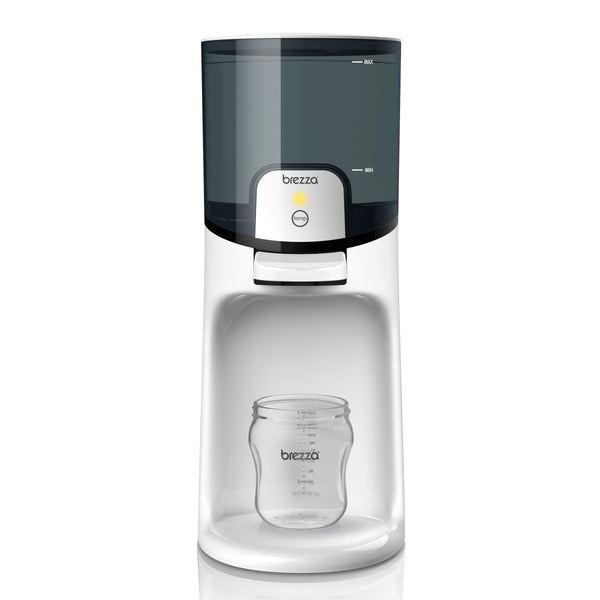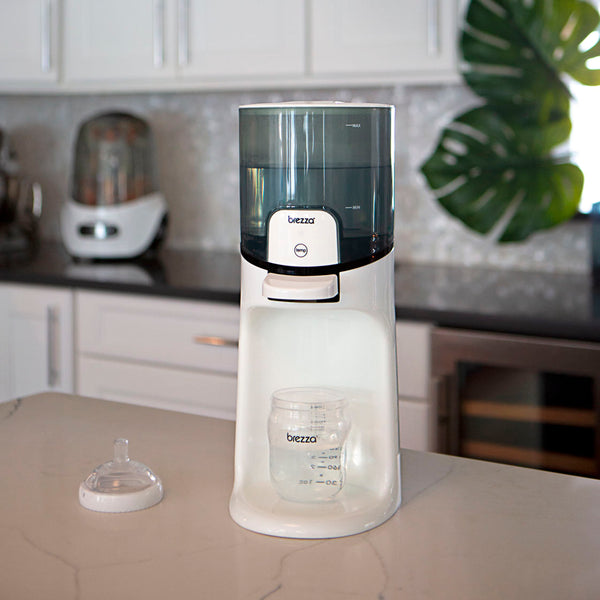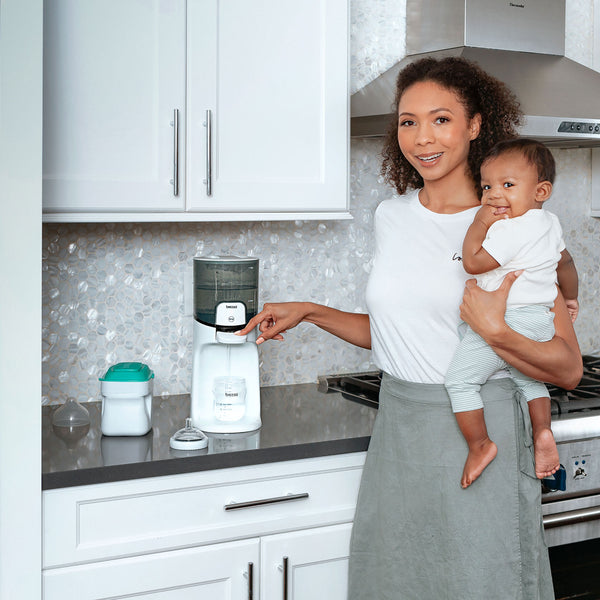 tap image to zoom
$59.99
Free shipping and returns
Exclusive 18-month warranty
Make warm formula bottles INSTANTLY! No more waiting 3-5 minutes using a traditional warmer. 
FREE 6-month extended warranty with your purchase on BabyBrezza.com in addition to standard 12-month warranty; BPA-FREE
Dispenses warm water

for baby bottles 

on demand 24-7 & maintains temperature all day & night
Customize with 3 settings: Body temperature, Warmer than body temperature, Room temperature
Easy dispensing: just press the lever; Works with all brands/types of bottles; Airtight tank holds 50 oz of water
If you'd like this warmer with a built-in LED nightlight, shop NEW Instant Warmer Advanced
The Baby Brezza Instant Baby Milk Bottle Warmer lets you make warm formula bottles INSTANTLY without waiting for a traditional bottle warmer. The formula warmer dispenses warm water 24/7 - just add formula, mix & feed in seconds. Customize for your baby with three different temperatures.
See all benefits

›
Dispenses warm water on demand 24/7;
Just add formula & mix

Easy dispensing – Just press the lever

Customize with 3 temperatures:
(Body temperature, Warmer than body temperature and Room temperature)

Say goodbye to waiting 4+ minutes for a bottle to warm up with a traditional warmer
Compare with similar items
THIS ITEM INSTANT WARMER
No nightlight
White color
3 water temperature settings
50 oz water tank
INSTANT WARMER ADVANCED
Adjustable LED nightlight
Black color
3 water temperature settings
50 oz water tank
Awards
FAQs
How Do You Warm Baby's Water for Formula?
Traditionally, parents have to boil water, mix it with the powdered formula, and wait for it to cool before serving it to baby. As any parent knows, this can take an unnecessarily long amount of time– from waiting for the water to boil to waiting for it to cool back down, feeding them the old-school way can keep baby waiting for no reason! Luckily, the Instant Warmer keeps water warm all day and all night long so that parents are instantly able to make a warm formula bottle whenever the time comes. The three temp settings– body temperature, warmer than body temperature, and room temperature– make formula warm, just how baby likes it, without any of the wait time for boiling and cooling down. Simply place your bottle underneath the water warmer dispenser, choose your temp setting, and press the lever for warm water that you can instantly mix the formula into!
Is It Safe to Use a Water Warmer?
Absolutely– in fact, it's one of the safest ways to warm a baby bottle for feeding time. With a water warmer like Baby Brezza's, parents can avoid dangerous temperatures from boiling water that can harm or burn babies. Even when a parent thinks their baby's bottle has cooled down enough, boiling or microwaving a baby bottle can cause "hot spots" within the formula that may not emerge until the baby is feeding. The Instant Warmer helps guarantee a consistent, comfortable temperature every time and keeps baby safe from any potential burns or hot spots.
Does Baby Formula Have to Be Warm?
Not necessarily– however, babies are known to prefer formula at a temperature that emulates the natural warmth of breastmilk due to it feeling more natural during feeding time. When you use an instant water warmer like the one created by Baby Brezza, parents can easily mix and warm baby's bottles to a perfect, even temperature every time. Some parents may discover that their baby prefers cold formula! This is uncommon but not impossible. If baby is taking a long time to take to bottles for feeding time, experiment with the temperature using the three temp settings on the Instant Warmer, and see what works best for your baby.
How Often Should I Clean My Instant Water Warmer?
A good rule of thumb for cleaning your Instant Warmer is every 4 bottles or every 48 hours. While the Instant Warmer is capable of keeping water warm all day and all night long, no parent wants to feed their baby using old water– not to mention leftover moisture can promote bacterial growth in those hard-to-clean areas. So, changing the water out often and cleaning the device regularly is encouraged. If parents are using the Instant Warmer every day, the 50oz water chamber will empty fairly often as it is!
Preparing a bottle for your hungry baby just got a lot easier and faster. Baby Brezza's Instant Warmer dispenses warm water on demand, all the time. No more agonizing waiting for a traditional bottle warmer to heat up the bottle while your baby is screaming their heads off. Just use our baby bottle water warmer dispenser and press the lever to dispense warm water, mix in your formula and you're ready to feed your baby in seconds!
The Instant Warmer ensures the bottle water is evenly heated and eliminates the risk of serving water that's too hot. This dispenser offers 3 temperature settings so you can get the warmth you want. It maintains your selected temperature all day and night. You'll love how much time it will save you!
The revolutionary water warmer for baby bottles works with all bottle brands and sizes, and the tanks hold 50 ounces of water – a day's worth of formula. See how this quick-working device speeds up the baby bottle warming process, which is a blessing to busy moms and dads everywhere. Order a warm water dispenser for baby bottles today.